Updated June 1, 2021
Our next pastor, Corey Shaffer, will be Ordained and Installed at a ceremony, here at Trinity, on Sunday, June 27th at 3:00 P.M. All of our members are welcome and encouraged to attend. A reception will follow in the church basement. His first day as pastor will be June 28th. More information will be forth coming in the weeks ahead. Ron Lobner
UPCOMING EVENTS
Several events are being planned here at Trinity for the upcoming weeks. The following is a list of the events, dates and who the contact person is for each. There are several opportunities to help by volunteering your time and/or food items for these events.
The first is the memorial celebration for Charlotte Searles scheduled for June 18 and 19. Kitchen help and desserts are all set up for the catered luncheon to be held on Saturday the 19th.
The second event is the reception following the Ordination and Installation of candidate Corey Shaffer on Sunday, June 27 at 3:00 P.M. Contact either Patti Kumm or Tina McLaughlin if you care to bring an hors d'oeuvre item(s) or provide kitchen help, serving or clean up. 
Lastly, we are planning a pot-of-blessing meal for candidate Shaffer and his family shortly after the church service on Sunday, July 11. Once again, please contact Danna Campbell if you care to help in any way. This meal is currently being planned as a pot luck BRUNCH.
We will comply with any CDC guidelines regarding Covid 19 as it relates to the serving of food at all of these events. For example, we may require servers and those who'll be eating to wear disposable gloves (provided) when handling food items/utensils in the serving line or when waiting on tables.  All of these events will be using paper plates and premium plastic ware to comply with CDC guidelines and to eliminate extensive kitchen clean-up.

DANNA CAMPBELL: 715-213-0512       715-325-2512      tilliecamp@solarus.net (Cannot respond June 17-July 1.)
TINA McLAUGHLIN:  715-315-4004            PATTI KUMM:  715-887-2226      715-570-6493      patkumm@wctc.ne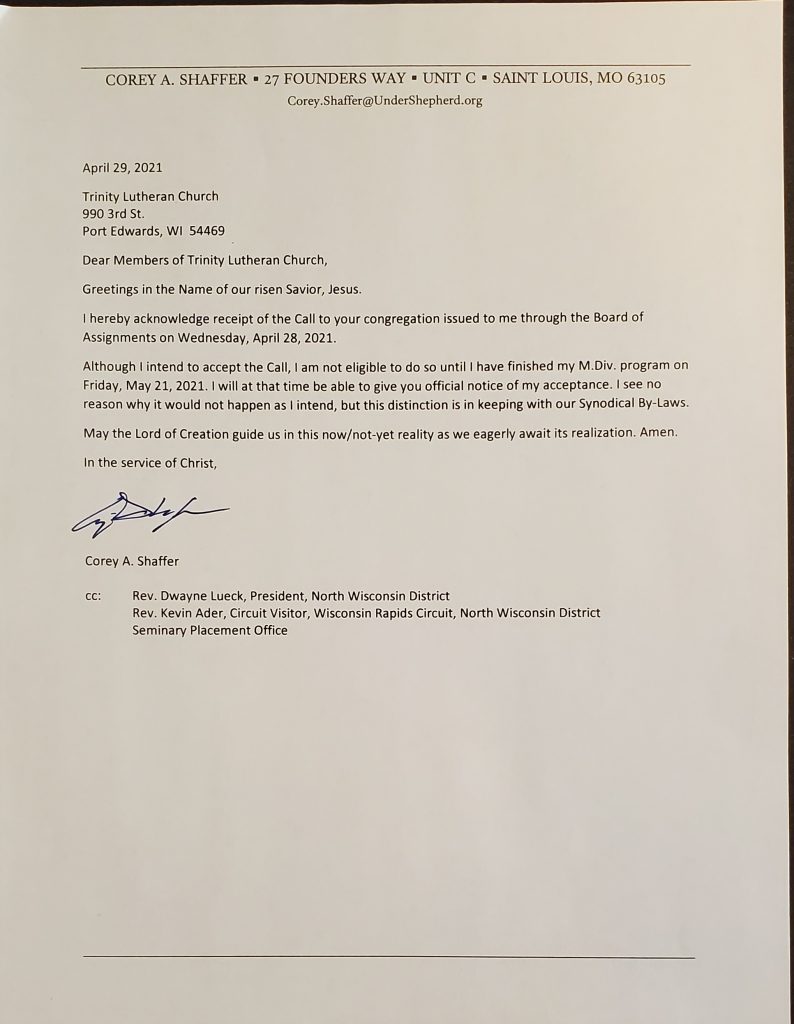 OUR NEXT PASTOR TO BE
On Wednesday, April 28, at our "watch party" here at church, we learned the name of who our next pastor will be. For those of you who weren't there that evening or had streamed the placement process at home, his name is Corey Shaffer. I had the pleasure of talking with Corey the very next day and was able to learn more about his personal information, etc.
Corey and Katie have two children, a boy and a girl. Corey spent 13 years in the military followed by 3 years working as a contractor for the military. They both are originally from Pennsylvania where their families still reside. Since being married, Corey and Katie have lived in Georgia and Nashville, TN and most recently, Clayton, MO. They strive to be very close to their church family because their relatives are all so far away.
Let me inform you that even though our Call has been extended to Corey, he has until May 21st to formally accept it. He did tell me that from what he could find out about Trinity Lutheran online, he thought we have a very beautiful church. I will be sending him some additional information about our church and parsonage, as well as what the central Wisconsin area has to offer. He informed me that he and Katie are both nature people. He mentioned that he and his family would like to visit us sometime in the near future, no doubt before May 21st. Commencement at Concordia Seminary is Friday, May 21st.
I will keep the congregation informed as to any further information that I get about him and/or his family.
In God's love!
Ron Lobner
A SPECIAL THANK YOU
In behalf of the entire congregation I would like to take this opportunity to thank the Call committee for all their time and efforts in putting this Call together. Countless hours of meetings and paperwork were involved to accomplish this. Please take a moment to personally thank the following Call committee members for all that they did to make this happen. They are:
Debbie Freeberg (Committee Chairperson), Alida Gross (Secretary), Neil Lindholm, Dan Oleson and, lastly, Ralph and Deb Totzke. Also, be sure to include Pastor Hoffmann and Pastor Ader, both of whom provided the committee with valuable advice, leadership and encouragement along the way.
Ron Lobner